Introduction
Everyone thinks they are an SEO expert. It's one thing to get inspired by SEO experts such as Neil Patel, Brian Dean or Rand Fishkin, but it's another to write an SEO guide from real experiences. Creometric is an SEO agency that works hard in improving the website visibility of its customers and partners. Google expects legit SEO experts to share their SEO tips and tricks to educate users.
We will do just that by sharing some useful SEO hacks that can get your business or service some juicy SEO results. SEO inspiration for writing this post has come from valuable sources who we will acknowledge during this post.
Google SEO
Every search engine does SEO differently. The majority of SEO guides and SEO advice pertains to SEO on Google. An SEO stats counter, lists the best search engines being used around the world.
Google (obviously) leads the table with a worldwide market share of approx. 92%. Close to 4 billion searches happen on Google's search engine.

Bing is next with approx. 2.41% market share

Yahoo fights hard with approx. 2.07%

Baidu (China) and Yandex (Russia) rounded off with 1.01% and 0.48% approx
Google's 2019 BERT update was launched to improve its search engine queries. It focussed on delivering the best results through natural searches. Bing looks at targeted keywords as a ranking parameter. Bing also focussed on meta keywords, which Google says is not a priority for ranking.
Bing accepts both the quality and quantity of backlinks as a ranking parameter. Google prioritizes the former. Google loves text. Bing loves videos and images. For Yahoo, however, domain age matters more than others.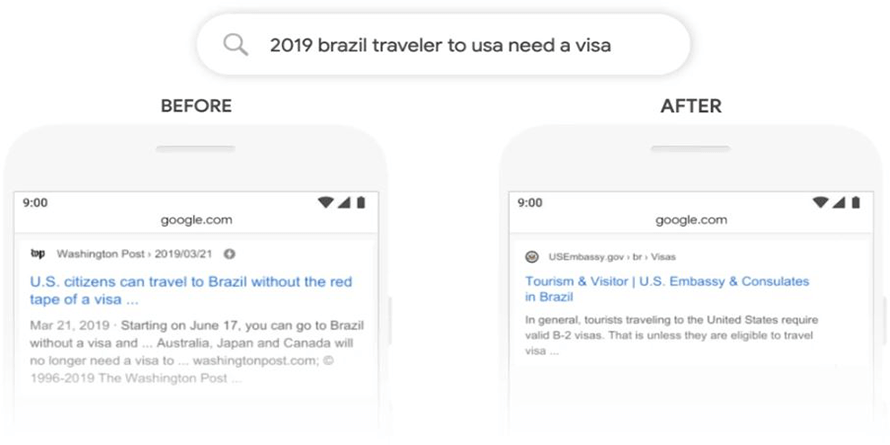 How can your search query stand out in a natural way?
Firstly, be clear and transparent. Remember E.A.T and Y.M.Y.L.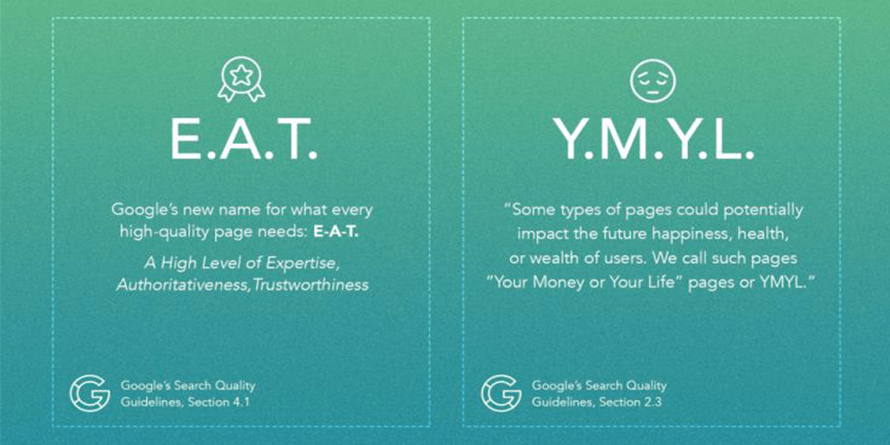 Every page on a website must aspire to become a high-quality page. The page must exhibit Expertise-Authoritativeness-Trustworthiness. Do this by sharing content that helps a user. Use a tone that teaches and portrays you or your website as a subject-matter expert.
Then there is Y.M.Y.L – Your Money on Your Life. Pages that direct users to improve their wealth, health and happiness.
E.A.T is crucial. Simple tips to ensure your pages build authority are:
Get your website's citation done (title, author's names, etc.)

Add an About Us page that addresses the audience's pain points

Each blog article posted must have an Author's byline

Clearly stated FAQ, Privacy, and Terms & Conditions pages

External links pointing to high-authority web pages
Work on the above parameters to get your website optimized. Add images on the website with alt tags. 'Alternative tags' are text alternatives. If poor internet connection (especially during the current lockdown in India), prevents the website from loading completely, alt texts tell the user what the image is about.
Make sure adding images and videos don't hamper the website loading speed.
Add social sharing icons on your website. The more SEO juice flowing through your social accounts, the better. These also build website authority. The more people are discussing or sharing your content, the better.
Add a blog to your website. It's a no-brainer that content marketing starts with a good blog. Feed the blog by consistently publishing content. Create a content calendar to stay on track.
If your customers have some good words for you, add them as testimonials on your homepage. People trust a website when they see real client reviews.
Elfsite.com allows businesses to add the Google Reviews widget onto their website.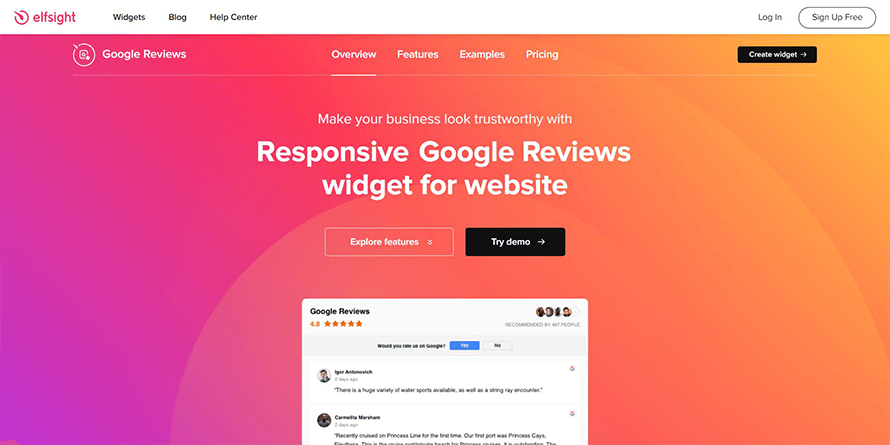 Perform an SEO audit of your website periodically. Go a step further by creating a technical SEO checklist. Download the best technical SEO checklist here.
The most common audit parameters to remember are: 
Ensure your website's meta robots directives are informing search engines on which internal links to follow and which not to.
The more backlinks your website garners, the more authority it receives. Gain backlinks by developing a strong content marketing strategy.
Share well-written blog posts, and turn them into content upgrades, such as infographics, eBooks, Instagram carousels and newsletters.
Answer questions over public forums, linking users to your blog posts. Leave your blog's URL on guest blog posts.
Devise an influencer network by writing to authors whose articles command high domain authority. Write personalized emails to each author commending them on the post. Then suggest feedback of your own (negative as well). Mention your blog post, and ask the author to give feedback of their own.
Google ranks web pages through an algorithm called PageRank. Named after co-founder Larry Page, it measures the importance of website pages.
PageRank looks at how well your website navigates. A well-navigated website will solve user-problems when they land on your website.
Poor navigation will bounce-off users, resulting in an increased bounce rate and poorer CTR (click-through-rate).
Your on-site SEO includes more than just keyword research. It includes:
Page description

Breadcrumbs

Canonical tags

Header tags

Image optimization

Sitelink extensions
In case your website includes a video, make sure it is optimized for duration and size. Videos are excellent for keeping user attention.
Start a YouTube channel. Optimize the video for keywords. Work on the description of the video. Optimize it for search engines.
As per Cisco, online video will make up 80% of all online traffic by 2021. Ensure your website includes video featured snippets.The content shown in the video must be organized as per sections. Add tags, title and description to the videos. Make sure the topic for the video is mentioned in the title.
Add captions to the videos you add on YouTube. Auto-generated ones aren't 100% accurate. YouTube is already twice as popular as Bing.
Visual search SEO
According to Jen Barell, of Impactbnd.com, 62% of Gen Z and millennial consumers prefer visual search as compared to any other technology.
Google Lens has been used close to a billion times. Pinterest garners close to 700 million searches each month. Visual search is beneficial in 
Getting clear directions over the web

Understanding nutritional tips

Learning new recipes

Shopping online

Translating information
Voice SEO
Smart SEOs are going to impact voice search big time. Close to 20% of all searches over mobile are voice searches.
Answering questions through your content can feature in voice searches better. Optimize your company's FAQ sections well. FAQs are after all questions, so it's a no-brainer there.
SEO for CTR
To be able to stand out on organic SERPs is hard. Just Google anything and look at what you get. If you type 'best blog' on Google, this is what shows up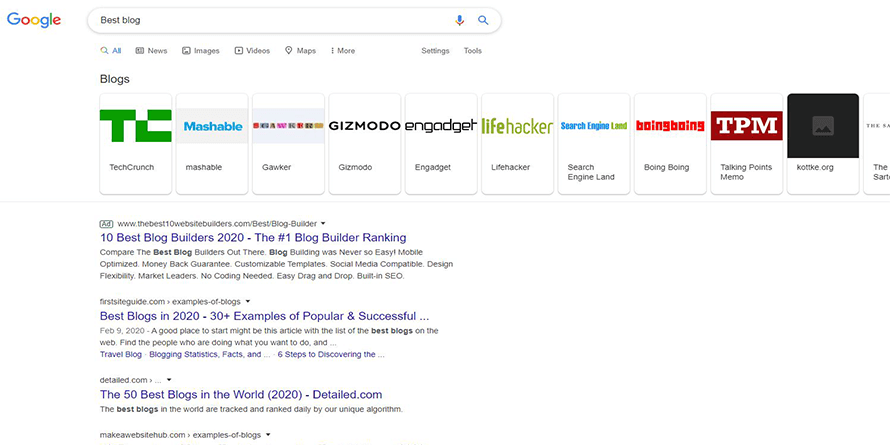 Your content or link must first feature on the carousel at the top. Then, try to beat the Sponsored Ads.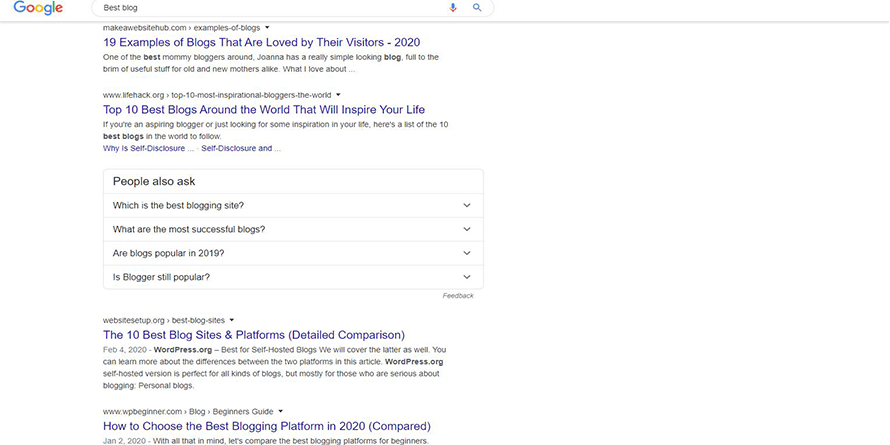 Also, rank past the 'People Also Ask' box.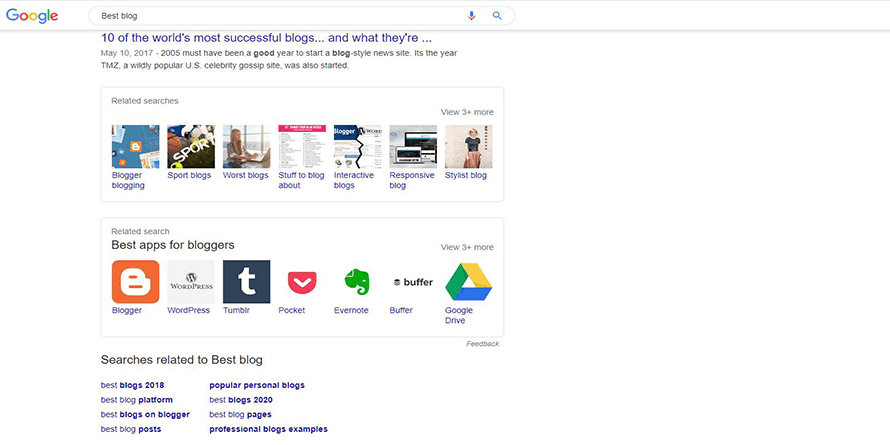 The race to be the best-ranked keyword is against organic content and sponsored ones. Organic click-through-rate, as you can see, is tougher compared to sponsored ads.
So how can you optimize for CTR?
Add the keyword in the URL of the content you put out. Keyword-rich URLs work best. Add emotion in the title of the content you write.
Don't add power words into titles, because then they look like click-baits. The title and the URL must contain the action keyword which the content is exactly going to talk about.
Also, add meta description to every page of your website. Several companies feel the homepage has the required information. But, trust us, it works.
SEO for Backlinks
Backlinks are underrated. Did you know? As per a recent statistic, close to 55% of web pages don't contain a single backlink.
Links play a major role in getting your website ranked in the top SERPs. Quality content and quality links are interrelated. Your blog's outgoing links need linking to high-quality URLs that are DoFollow links. When these webpages link back to your domain, then these are called quality backlinks.
The domain, which the links are sub-domain or sub-folders too, are the referring domains to your backlinks.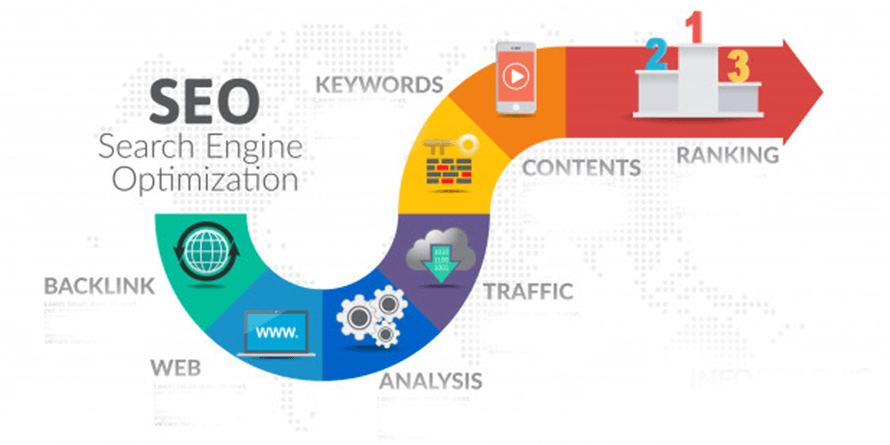 White Hat vs Black Hat SEO
Black is bad and white is good. Trying to gain an advantage over your competitors through rank-quick shady techniques? Employ black hat SEO.
Black hat SEO is optimizing website content solely for search engines and not for users. SEO rules are bent or broken to rank higher. Black Hat hackers also, in the bargain, make thousands of Dollars in funds. Spammy ads or crappy web pages surface all over the web.
These eventually get banned. The hopes of building a sustainable brand are destroyed through black hat SEO tactics. Doing SEO the right way, keeping humans in mind, is called White Hat SEO. Do you want to build webpages that connect first? Then sell.
Off-page SEO
We discussed optimizing the website 'on the page' in detail. Let's now look at SEO tricks to improve the off-page search engine side.
If PageRank predominantly addresses on-page SEO, then TrustRank is its off-page cousin. TrustRank allows Google to check if your website is legit or not. Off-page SEO is improved through authoritative sites as backlinks. This authority can either be domain authority or page authority.
Domain authority determines how popular the domain name is. The authority of the content on every single page determines the page authority. Both these authorities are measured by Moz, with 100 being the best and 1 being the lowest. Guest blogging also improves page authority.
Off-page SEO also includes reducing the bounce rate of the website. It is the measure of how many users viewed the site to the number leaving it. Bouncing off a website can be attributed to slow loading speed, usability, and poor content. Also, older the domain, higher is the domain authority.
*** Creometric Tip: Quality of link matters over quantity of links ***
By offering value to the right sources, a good backlink can be received in return. Links from newer websites rank better than existing ones. 
Outbound links matter more than inbound links. The link equity or link juice that flows from a high-authority backlink is massive. This link equity is good if the domain it is coming from is old enough, the topical relevance to your website/webpage and the HTTP status code is positive.
Link juices are subject to HTTP status access. The following codes need to be remembered by every marketer.
HTTP status code – 200
This is an ideal status code for a page that's functioning well.
HTTP status code – 301 permanent redirect
If 301 redirect is returned, then it means the URL is redirected to another destination permanently. Remember, the link equity will be passed to the new destination URL. Some SEO experts feel this is not completely true, but it's at least better than the next one. 
HTTP status code – 302 temporary redirect
This status directs the URL to a temporary address without the link equity flow to the new URL.
HTTP status code – 404 not found
The one status that has inspired memes about it, the '404 Error' not found just signifies a dead end.

*** Creometric Tip: Never change a '404 error' not found page with a 301 redirect ***
This is because a user can be confused. In case, the webpages that return a '404 error' are high-traffic pages, then employ a 301 redirect to a relevant page. For example, if a page on 'geared cycles' doesn't exist, redirect the users to a 'components of a geared cycle' page.
HTTP status code – 410 gone
This is a level-up from the 404-error page. This indicates that the page is no longer available on the server. Remove them from your website ASAP.
Off-page SEO also caters to personal factors such as country time zones. If a user is looking to hire a service and can see your company's listing as per his/her time zone then it's easier for the user. Each country's search results differ. The keyword competition differs as well. In case, you want to go international, go with a native website.
Social signals are the last of the off-page SEO parameters we will look at. PR boost, social shares, follower count, likes, etc. all matter in the off-page world. If an influencer shares your company's post, then that rates higher than a regular layman's share.
SEO Tips for 2020
Let's finish off the SEO guide with a round-up of best SEO practices to follow this year.
The average content length for an article on Google's top position is approx. 2416 words. So, write long, write original.

Add data to your articles. Use content upgrades to mix it up.
Adopt video as a marketing tool. SEO tools from Semrush, Yoast SEO, Ahrefs, and Ubersuggest are invaluable. Don't forget concept visuals such as infographics which are easily shareable.

Join community forums to discuss your content topics (and find industry-relevant influencers).

Start producing podcasts. Invite a fellow writer or influencer and record the conversation. Discuss

ideas

, plans and share knowledge.

---
Creometric is among the best digital marketing companies in India. We strive relentlessly to deliver on customer expectations. We are pioneers in performance marketing, which combines all online marketing strategies to deliver business growth.
Creometric provides Search Engine Optimization (SEO) to establish a brand's online presence. 90% of customers first try to find a business on Google.The optimization also includes on-page SEO, competitive research, off-page SEO, online content development, conversion optimization, link building, and hyperlocal approach.
As a company, we specialize in a 'one-size-fits-all' approach when it comes to your social media needs. Whether it is driving app installs or increasing footfalls to your brick & mortar store, we handle both with ease. We deliver this through creative social media posts, customer interaction, and social growth.
Creometric works with industry-leading influencers to gain brand traction. We create influencer campaigns to increase a brand's engagement. We connect brands to our database of influencers. We also churn our sponsored content that reaches the intended target audience. Over the years, Creometric has built a hub of affiliate marketers in Goa. We consider it an appendage to performance marketing. We work with our affiliate partners to ensure their websites get only the best ads running on them. 
Creometric is a top design agency, capable of servicing customers in product packaging, infographics, logo design, digital collateral, Instagram posts, and meme marketing.