Introduction
Before we put down this useful guide to content marketing, let's get one thing clear – Writing a blog is not content marketing. Of course, it acts as a great medium. But a content marketing blog is not the whole and soul of content marketing.
Traditional forms of marketing focus on getting a targeted message across. They are less effective because the priority there lies in the message and not the medium or audience.
Content marketing focuses on the message, which is nicely cooked in a stew of audience preference and engagement medium. That's why 85% of brands adopt content marketing in brand building.
This content marketing guide will focus on effective marketing strategies, types of content marketing, benefits of content marketing, and cool content marketing examples. 
This type of marketing makes us vulnerable. We can show a side of your business that customers don't get to see. Your company's strong points are put on the line for people to understand and respond.
We can even vouch for the fact that strong content marketing strategies can turn a regular stream of traffic to leads. Marketing through content is like dating. It's scary, but still an experience. Selling the experience is what it's is all about. Leads are just a bonus.
What is content marketing?
Content marketing is the strategic and systematic use of content to educate, showcase, and solve customer pain points.
It allows digital marketing agencies to devise personalized content campaigns. These campaigns can be custom-made to improve a client's brand awareness, increase business revenue, engage with an audience or convert faster. 
Telling a story is the most important benefit of content marketing. The process of telling this story i.e. plan, create, distribute, share and publish; can make content more receptive.
It is a popular strategy to combat communication gaps in marketing strategies. The direct benefits of content marketing are:
Increase conversions

Educate prospects and leads

C

onnect to your targeted audience

Build a community around a brand
Types of Content Marketing
We are discussing five popular types of content marketing. Although there are multiple-segmented types, the five we are going to discuss are critical for business as we speak. This section of the ultimate guide to content marketing will discuss just that.
The outbreak of COVID-19 has curtailed face-to-face meetings, conferences, events, and roadshows. This means, content marketing is the obvious digital medium to target and teach.
Think about it. Engaging emails, educational blog posts, subscribed newsletters, and social media videos. All these are examples of content marketing mediums. Using them during a time of pandemic makes sense.
#1. Blog Content Marketing
Content blogs are a powerful medium of inbound marketing. They are excellent for teaching a targeted audience. The information shared on blogs can be educational, product-specific or customer-specific. 
Blogs let an audience connect with a content marketing message. Call-to-actions are present in every blog post/article. These blog posts can help build a dedicated audience.
Every blog post is goal-specific. Depending on that goal, your blog's content needs to be written. This goal also governs the blog strategy. An effective blog strategy will focus on blog promotion.
The best blog content strategy is linking internal blog posts, sharing blog links through social media channels, or cross-platform sharing of articles. 
Possibly the best example of a blog marketing strategy is on the Expedia blog page. 
The blog titled – 'Out there starts here', shares travel-specific information. This information also relates to unique destinations, hotel recommendations, and numerous outdoor activities for travelers.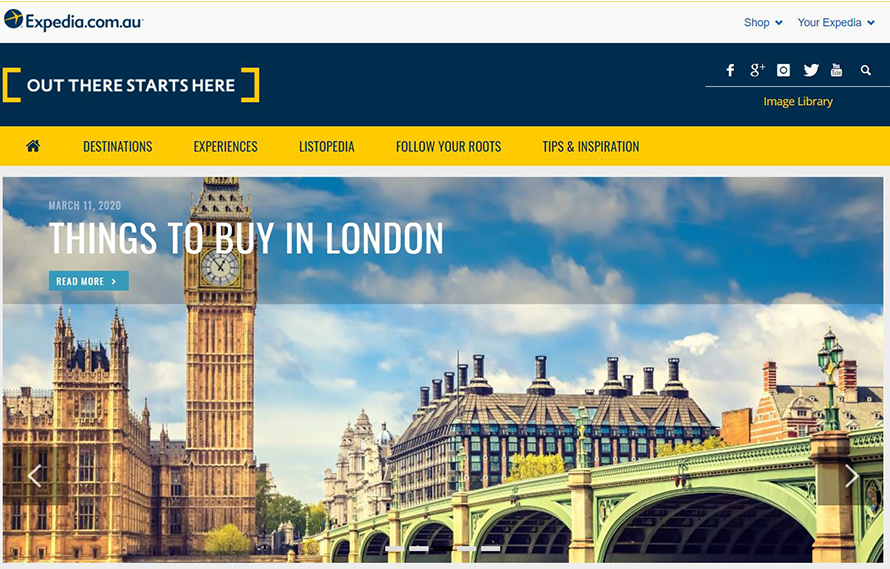 Expedia makes sure they share regular blog content. Their goal is to keep readers engaged and interested. The topics they feature within their blog are related to unique passenger experiences and trips to undertake around the world.
 Their blog is an extension of their brand. They link their travel technology services with customer experiences to create a niche travel service blog.
#2. Video Content Marketing
According to Hubspot, 50% of consumers are interested in branded videos they trust. We want to know what Amazon is doing for their Great Indian Sale. We love the Mauka – Mauka ads that go viral during the Cricket World Cup.
Video marketing is now a quintessential content marketing medium. Brands want their videos to interact with us. Their message is relayed through video, with the powerful use of voice-overs and effects. 
Video content marketing can boost business conversions, build relationships, and improve the company's ROI. That same video can be re-shared on a company's website or used as a hook in a skyscraper technique.
Perhaps the best example of video marketing could be the Dollar Shave Club's video (shared below). This video marketing strategy went viral. Their marketing efforts lead to an entertaining, humorous and brand-specific video.
This particular video has garnered approx. 26 million views on YouTube. Their business has witnessed impressive business growth and brand identity recognition.
#3. Social Media Content Marketing
Close to 4 billion global users are engaging on social media. If a business or brand isn't tapping into this user's potential, then they are missing out.
Businesses need to understand how to harness social media to sell their products/services. This makes social media marketing a key medium. The presence of social media platforms such as Instagram, Facebook, LinkedIn, Pinterest and Snapchat, allows a business to target a platform-specific audience for business growth.
Brands need to create content that is relevant to their audience and platform-compatible.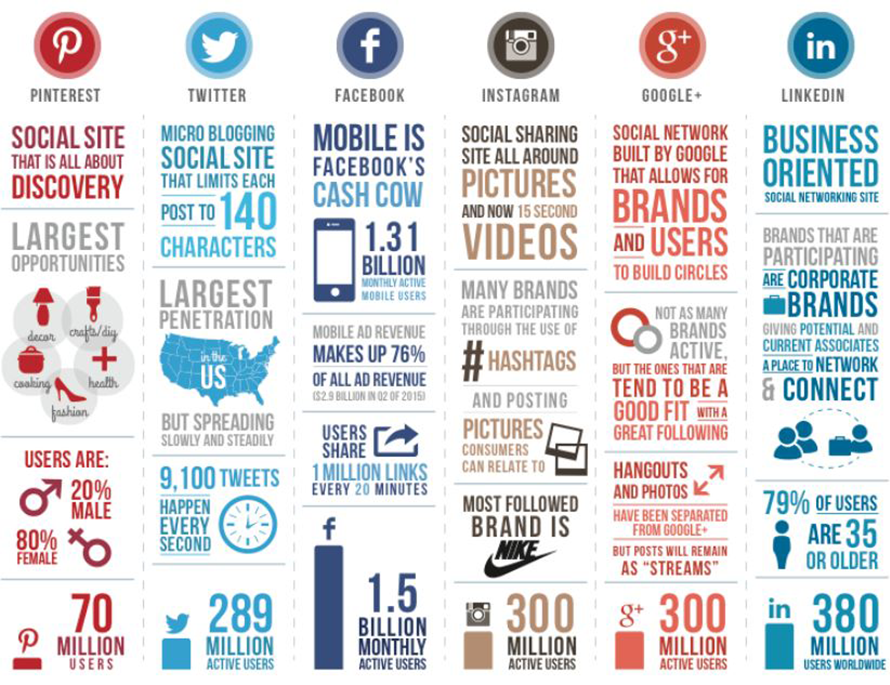 Social media marketing works with multiple content types. Photos, videos, infographics, links, podcasts, etc. are all valuable pieces of content.
The plethora of opportunities presents here can turn your content into shareable pieces of communication. Social media marketing solves a problem that traditional marketing cannot cater to – reach. You can reach a highly targeted audience base.
Two of the most successful social media marketing examples are that of Lush Cosmetics and IBM.
Lush Cosmetic's Instagram account compliments its brand offering. Even if they hadn't mentioned 'Lush Cosmetics' on their profile, customers would still know what the page talks about.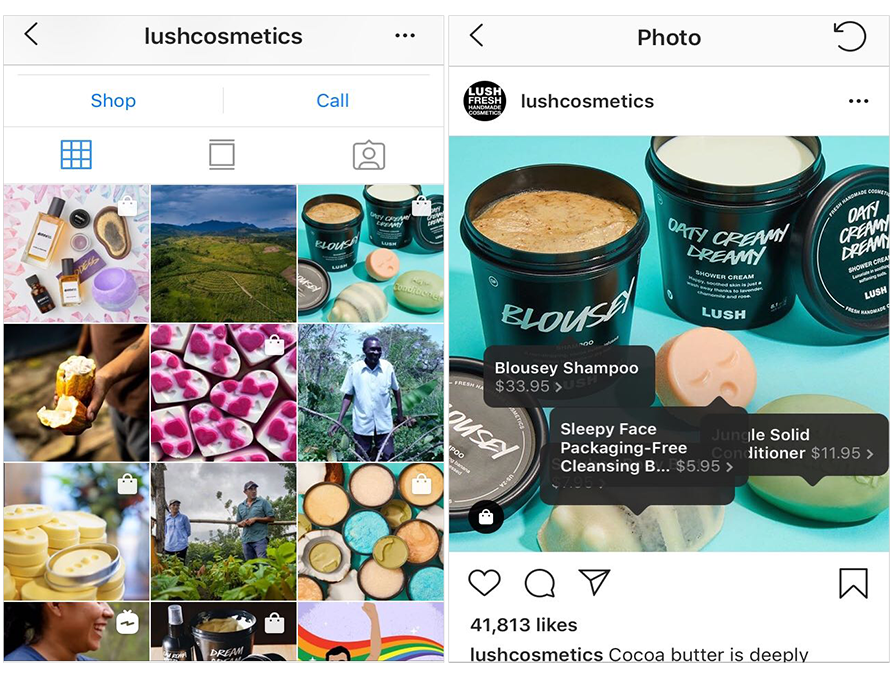 Their Instagram page showcases its product line. The array of scent and colour options directs customers about the ways each product can be used. The look and feel of the page are bright, happy, and literally 'lush'. 
People from varied backgrounds, genders and ethnicity are showcased on their page.
IBM uses infographic marketing to teach their audience. Infographics are excellent content types to educate a user. Infographics can turn complex information into a breezy easy-to-understand image. 
With simple text, shorter statements and clean images, infographics communicate well. Complex topics, how-to-guides, and manuals can be turned to infographics.
 IBM's infographic about their launch of Cloud Marketplace was well appreciated. The infographic is easy-to-read and on-brand.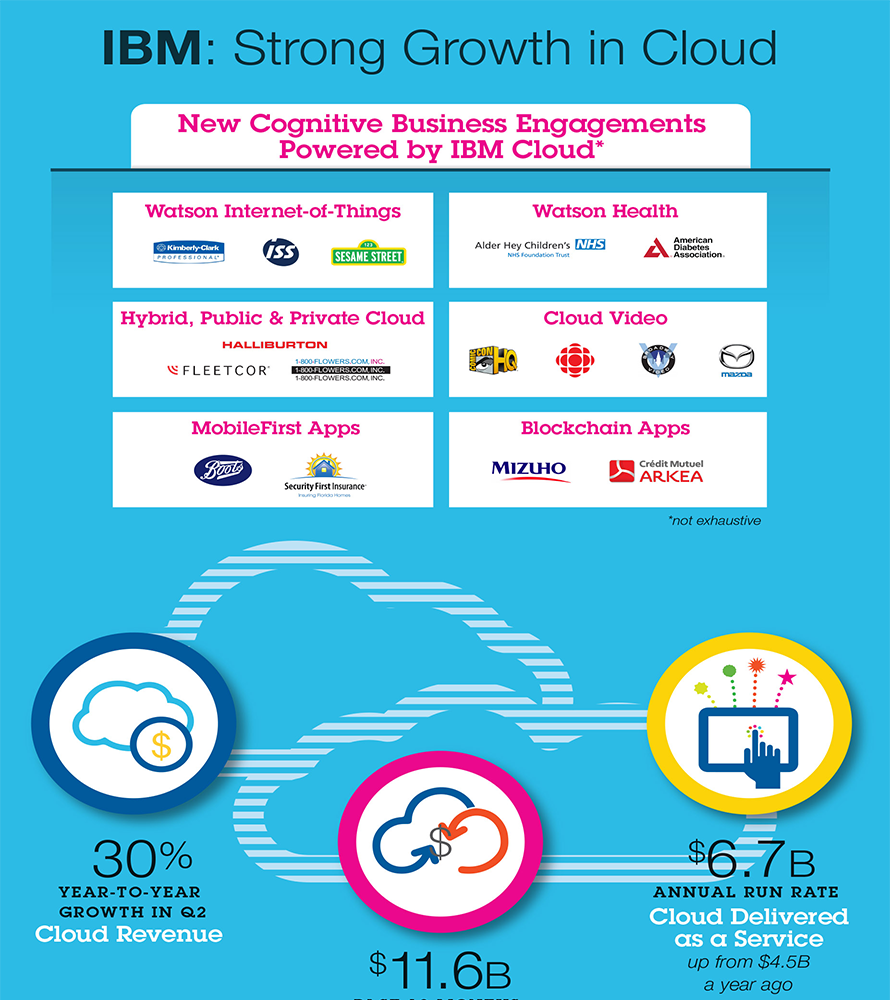 It clearly explains what their objective is when launching the product. The benefits to customers are illustrated. Marketplace access points and get-started steps are also pointed out.
#4. Paid Ad Content Marketing
Organic traffic will always supersede paid traffic. Content that is created through inbound marketing will always be the preferred route for businesses.
However, the paid content must not be ignored. Through paid marketing, you can create a custom campaign based on a specific target audience. Paid content ads help you reach a broader audience. Along with reach, your brand can achieve a position that not many can achieve.
Content for paid ads can come from the same blogs or website content your business uses. Paid marketing comes with designated ad dimensions. Your ads need to be designed-to-fit the appropriate size or dimension. 
Regular posts can be boosted through paid campaigns. Paid banners or sponsored content are commonly used. A great example of paid marketing is seen in Revolve's sponsored and paid ads.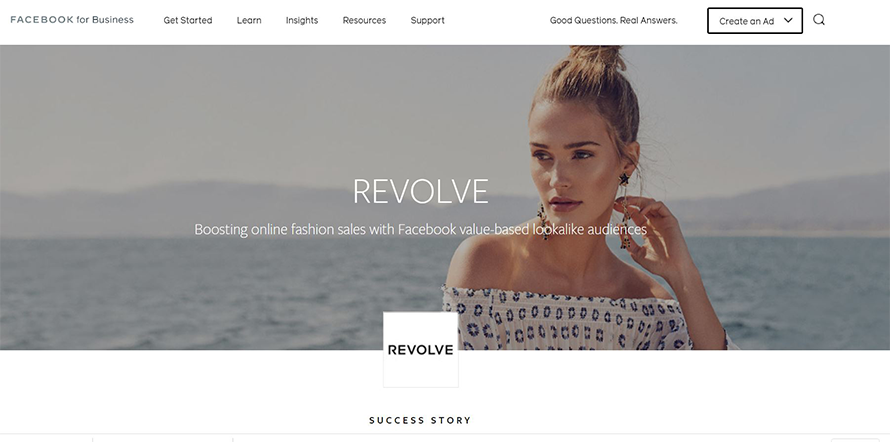 Their paid Facebook campaign is intended to reach a select audience. The ads are visible to the user while scrolling through their news feeds.
The Content ads cover basic product details related to return policies and free shipping. It's a great marketing strategy to educate and sell. That same audience can become their paying customers.
#5. Podcast Content Marketing
Not many will cover podcast content marketing in their comprehensive guide, but we will. That's because nearly 6 million people listen to podcasts in the United States alone.
This marketing trend has already been embraced by brands in India. Podcasts are a popular medium for fresh content. Pick a trending topic, invite an influential personality, and create a live podcast. 
The same recording can then be shared on social media including YouTube. Listening to a podcast is convenient. You can listen to it while driving in your car, while doing yoga or even while working.
Podcasts are a fantastic content medium for building a connection, improving brand awareness, and promoting a new product. 
A popular podcast that features industry leaders is Harvard Business Review's IdeaCast. They allow users to subscribe to their consistently-released list of podcasts.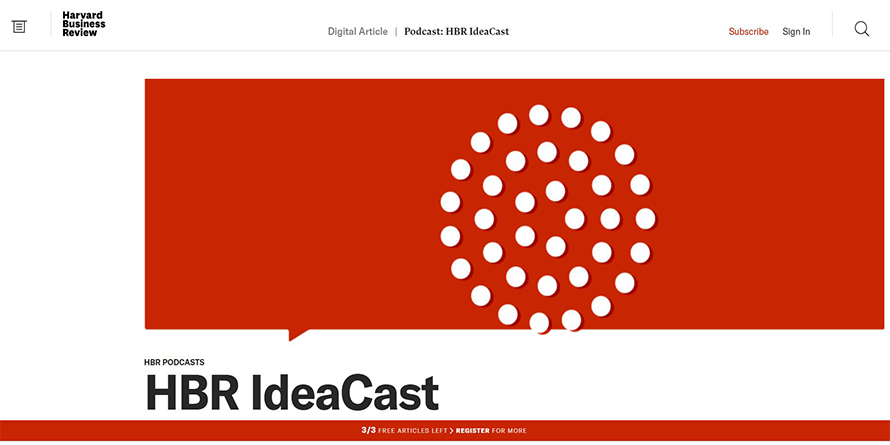 The podcast compliments HBR's related content pieces. It's a great way for the audience to connect with HBR. Brand awareness is generated, with their target audience sitting in cubicles listening away at work.
Content Marketing Strategy
Marketing strategies can be successful with well-defined goals. The best method to set goals is through the SMART approach. 
Finally, in the guide to content marketing, we look at steps in developing a content marketing strategy. Through these steps, we will understand how to do content marketing.
Step #1 – Be SMART
Specific – The goal must be specific to the actions or tasks underlined.
Measurable – The content strategy must measurable through targets or outcomes.
Attainable – The goals set must be achievable through effective execution.
Relevant – The strategy should be based on trends or interests.
Time-bound – The time– taken for creating the content marketing strategy
The creation of SMART goals will align the business goals with the ones set for content marketing. If your goals are switched to SMART goals, a content strategy will more or less assure:
Increase in brand loyalty

Growth in revenue

The attraction

of strategic partners

Rapport being built among customers
Step #2 – Figure out KPIs
Set KPIs or Key Performance Indicators to SMART goals. These are quantifiable data pointers that help even a top performance marketing agency like Creometric to deliver results.
Garnering brand awareness – Related KPIs could be social media follower count, website traffic data, subscription for sign-ups, mentions, etc.
Towards revenue – Website traffic, daily/monthly sales figures, etc.
Increased conversions – Shopping cart abandonment rate, shipping rate trends, pricing trends, etc.
Acquiring brand loyalty – Referral rate, promoter count, product review rate, returning customer count, etc.
Step #3 – Create unique content
The next step is to create the right type of content. If businesses do not employ any content creation resources, the best solution is to hire a digital marketing agency.
Handing over the responsibility of content marketing to India's best digital marketing agency is a no-brainer. A top performance marketing agency will target the right audience and create buyer personas.
The agency will look at the needs of the customer, understand their pain points, and devise a strategy to convert leads.
Step #4 – Selecting content channels
After the creation of unique content, the next plan of action would be to promote it. Each content channel caters to a specific audience.
Although social media is a content channel in itself, there are selective platforms that need to be selected.
Step #5 – Approving on a budget
A business must keep in mind the cost they accrue when hiring a top marketing agency. Ads need money to be spent on them. Various content marketing tools need-to-be paid subscriptions to help a business measure performance.
It's obvious no business can do this alone. That is why hiring a reputed marketing agency is crucial to get results.
Content Marketing Examples
Every company must adapt content marketing as a strategy. By being prudent, tactical and staying relevant, any business can grow. 
In case a company cannot harness the potential of digital marketing, they should hire a top digital performance company. The ideas showcased below can be adopted as content marketing tips to further business growth.
Several content marketing examples can be found over the internet about successful content marketing. Let's look at 4four great examples of content marketing strategy. These examples will answer your question as to why is content marketing is important?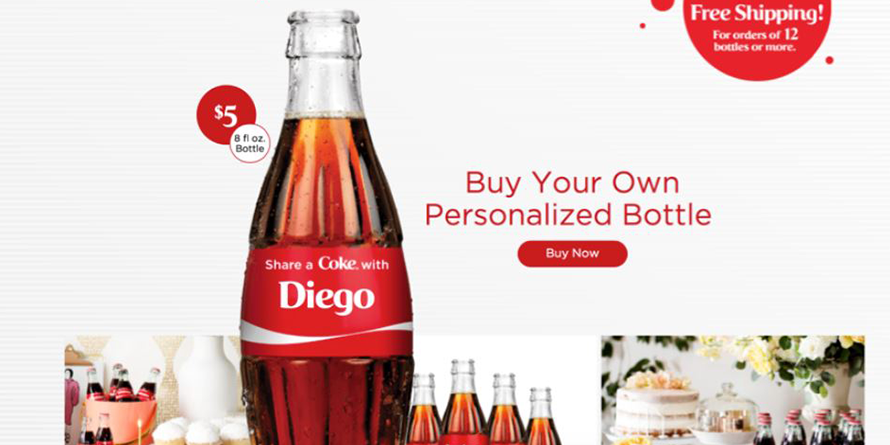 What we liked most about this content marketing strategy, is the idea to connect an entire country in just one bottle. 
150 popular Aussie terms on one bottle… – Beat that!
#2. Hubspot's marketing strategy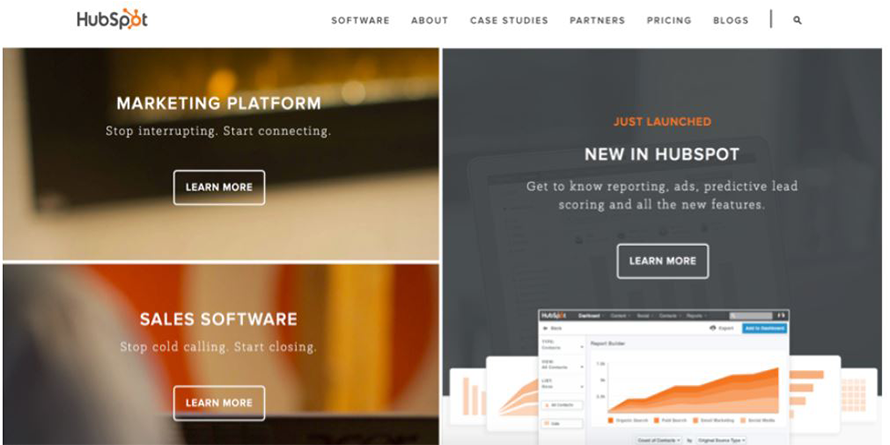 What we liked here is the sheer 'playing the basics' card. 
Clean and simple copy with so much to offer – eBooks, guides, webinars, and videos.
What more do you want?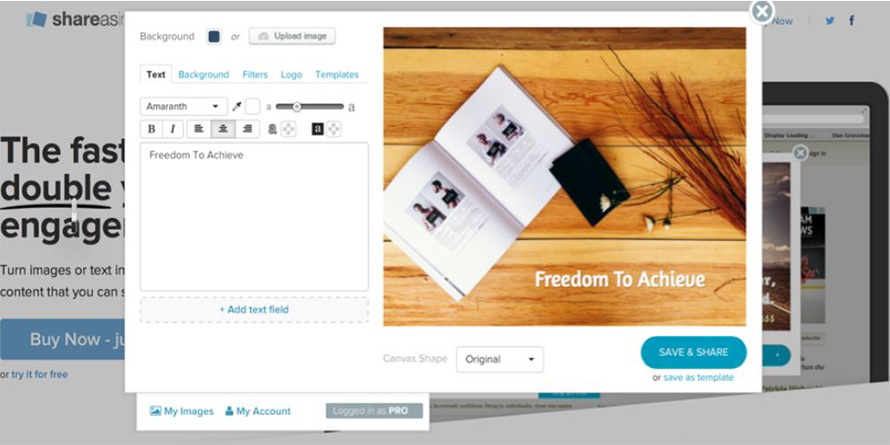 What can go wrong in image, sharing, and content? Nothing! 
They nailed their 'build– your– visual– brand' motto.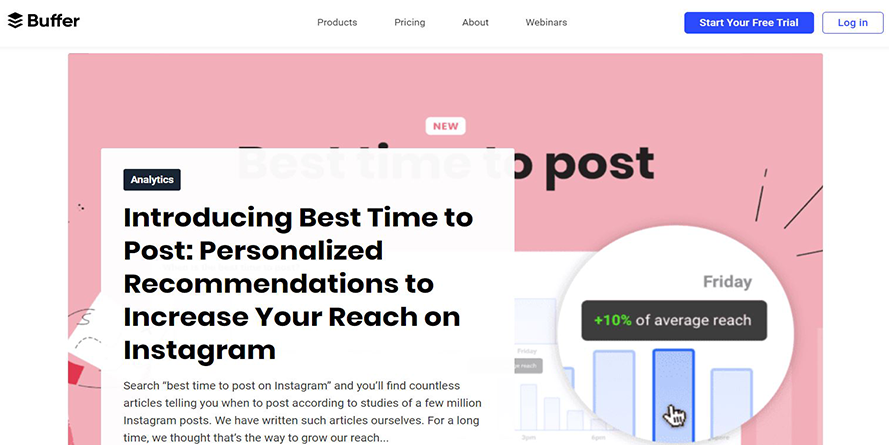 Buffer states exactly what they can deliver, and we believe them. They tell stories that we want to hear.
Creometric is among the best digital marketing companies in India. We strive relentlessly to deliver on customer expectations. 
We are pioneers in performance marketing, which combines all online marketing strategies to deliver business growth.
Creometric provides Search Engine Optimization (SEO) to establish a brand's online presence. 90% of customers first try to find a business on Google. 
The optimization also includes on-page SEO, competitive research, off-page SEO, online content development, conversion optimization, link building, and hyperlocal approach.
As a company, we specialize in a 'one-size-fits-all' approach when it comes to your social media needs. Whether it is driving app installs or increasing footfalls to your brick & mortar store, we handle both with ease. 
We deliver this through creative social media posts, customer interaction, and social growth.
Creometric works with industry-leading influencers to gain brand traction. We create influencer campaigns to increase a brand's engagement. We connect brands to our database of influencers. We also churn our sponsored content that reaches the intended target audience.
Creometric Over the years, Creometric has built a hub of affiliate marketers in Goa. We consider it an appendage to performance marketing. We work with our affiliate partners to ensure their websites get only the best ads running on them. 
Creometric is a top design agency, capable of servicing customers in product packaging, infographics, logo design, digital collateral, Instagram posts, and meme marketing.